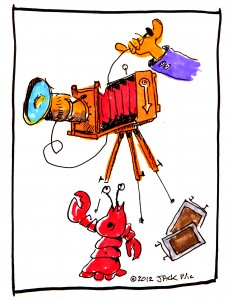 As a kid I loved to draw. I'd spend hours lying on my stomach in front of the wood stove in the kitchen with my pencils, crayons and coloring books. All that ended in junior high when my Dad gave me his old Argus C3 camera.
Fifty years later, after an amazing career traveling the world with my cameras for Fortune 500 companies, I picked up my drawing pencils again. On my summer visits to Islesboro, there were days when the weather was too hazy or foggy to photograph, so I'd wander the boatyards and shoreline finding things to draw. I realized that a photograph can't always do the job, and I needed other ways to express myself.
My style is to draw roughly in pencil, make a few notes about color, and return home to finish the sketch with ink and professional color markers. Simplicity and spareness rules. I find the magic in the details, close-at-hand and underfoot.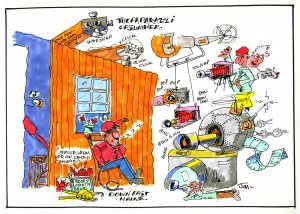 The cartooning came about when I found that I couldn't convey humor or tell a story that took place in past tense. A lobster man friend of mine was seriously ill with cancer, and I sent him cards and letters to make him laugh and keep up his spirits.
I also became the phantom sign-maker and merry prankster, drawing cartoons about the ferry, tourists, lobster men and anything else that caught my fancy. I'd enlarge the images to 20×30" and sneak down to the ferry after midnight and post them near the ferry line, where islanders would find them in the morning. One of my favorite posters told tourists to park their cars overnight on the boat ramp during low tide, hoping they'd show up in the morning at high tide to find their cars submerged in water. Of course no one was naïve enough to actually park their cars, but it gave those waiting in line for the ferry a couple of laughs.
I am easily amused at the goings-on of life, and really enjoy commenting on them. Most of my cartoons have a couple of tiny figures (maybe two clams, or a fish and a lobster) at the bottom commenting on the cartoon, much like the Pogo cartoons of my youth. They are a counterpoint to what I draw—an observer to the story in the cartoon.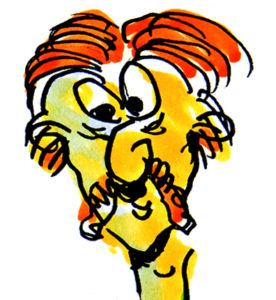 I'll keep adding the old cartoons to the Cartoon gallery on my new website www.sevenknotsgallery.com as I find them in my archives.
My intention is not to hurt…or please…anyone with the cartoons. I draw what I feel and just throw it out there for others to enjoy.
Note:

Jack's Valentine's Day cards can be ordered on-line at http://www.sevenknotsgallery.com.Click on Gallery and click on the last gallery Holiday Cards to see 12 designs. Click on About and click on Purchase to see prices and ordering information.