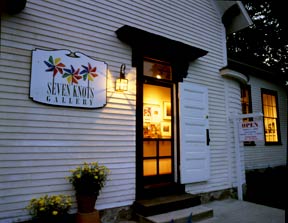 About SevenKnotsGallery
The Seven Knots Gallery first opened in the Pendleton Schoolhouse on the main road on Islesboro, Maine in 2003. For three summers featured artists from all over New England showed their paintings, photographs, ceramics, fiber arts, drawings, and jewelry; and they gave workshops and concerts for the enjoyment of the community. Currently the gallery operates in the virtual world, located at www.sevenknotsgallery.com .
It's natural for artists to gravitate to the Maine Coast, with its challenging rocky contours and sudden engulfing fogs, where you can be easily disoriented, lose confidence in your cardinal points, and risk everything on a fearless sprint across a frightening ledge into a welcoming cove of ambiguous dimensions. Just as suddenly, an erratic breeze breaks up the fog, and there you are whipping along at break-neck speed, bouncing off the tops of waves, soaked by spray, and your own giddy expectations.
When Paula McNamara and Jack McConnell created the original Seven Knots Gallery, the idea was to use the space as a center where people could interact around art, play a bit, display a bit, and enjoy the work of other travelers. So the gallery had to be about the process as well as the product. And there were many workshops exploring the "getting there".
Anyone who's tuned in to hull speeds, knows that seven knots is a rather gentle, meandering pace, one that celebrates the possibilities of a blue-sky day. It's not the lickety-split, pedal-to-the-metal, get the groceries and be back in time to mow the lawn and light the grill kind of speed. It's not even the circle-the-bay pulling lobster traps kind of speed. Seven knots is exploration, it's mulling over, it's discovery.
It's the kind of time-in-space you don't see much of the time, when you're wound too tight to sense the sassy syncopations of your inner artbeat. So we hope you'll wander through the virtual world of sevenknotsgalley.com to tune into your own natural "hull speed".
Check out the photography and drawings of Jack McConnell and see what's on his mind.